Abbott and Costello - Old Time Radio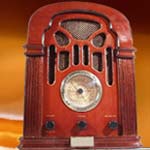 Best known for their hilarious, oft-repeated comedy routine, "Who's on First?", Bud Abbott and Lou Costello worked their way from burlesque and vaudeville to radio, television, Broadway, and movies, finding success in every genre. After a serendipitous partnering on the vaudeville stage in New York City in 1935, their radio career began to take off when they were hired to be regulars on the Kate Smith Hour beginning in 1938, and they also appeared on Edgar Bergen's Chase & Sanborn Hour.
Their own series, The Abbott and Costello Show premiered on NBC on July 3rd, 1940 as a summer replacement for Fred Allen's show until September 25th, then returned in October, 1942 for a 4 1/2 year run on the same network. In October, 1947, the show moved to the ABC network where it ran until 1949.
Abbott and Costello's first radio performance of their popular stage sketch, "Who's on First?" aired on the Kate Smith Hour in March, 1938, and thus, a comedy classic was made permanent in pop culture. Their natural voices were similar and tone and pitch, so, in order to accommodate radio, Costello changed his voice to a higher childlike quality, which well suited his blundering character. Their comedy mainly consisted of fast-paced word play with Abbott as the stern straight man to Costello's silly, confused, and confounding comebacks. The comedy duo enjoyed simultaneous success on film and radio, and two of their films were adapted for the Lux Radio Theater. The show featured musical interludes, and guest appearances by big-name stars, such as the Andrews Sisters, Lucille Ball, and Frank Sinatra.

There are 79 shows in our collection!
Date Aired
Lion Hunting
March 20, 1940
Knights In Shining Armor with Merle Oberon
November 19, 1942
Bank Robbery
October 15, 1942
Lou Substitutes For Joe Dimaggio
May 11, 1942
Hunting Guide with Claire Trevor
January 14, 1943
At the Circus with Alan Hale
March 16, 1943
Nylon Stockings with Lucille Ball
November 18, 1943
Christmas Show
December 20, 1943
Trip To Palm Springs with Veronica Lake
December 2, 1943
The Wild West with Lynn Bari
December 16, 1943
The Lawyer with Bert Gordon
December 30, 1943
Costello's Pet Turkey with Jane Wyman
November 25, 1943
English Butler with Arthur Treacher
December 9, 1943
Guest Linda Darnell
March 23, 1943
Costello Buys a Horse
September 11, 1944
Running A Newspaper with Hedda Hopper
March 2, 1944
Lou's Engaged to Judy Canova
January 6, 1944
Making a Movie with Dorothy Lamour
February 17, 1944
Guest Charles Laughton
February 10, 1944
Christmas Shopping
December 14, 1944
Visit to Tin Pan Alley
December 7, 1944
Thanksgiving Dinner with Artie Auerbach
November 23, 1944
Return to PS 15
November 16, 1944
Costello Buys a Race Horse
November 9, 1944
Mortimer's Pet Shop
November 2, 1944
AND MANY MORE



Other Vintage Radio You'll Like:
Try these other Old Time Radio Shows out for size!